SA deal to attract skilled migrants to the regions would allow bosses to pay them 10% less
Summary: A migration deal struck by South Australian Premier Stephen Marshall and Prime Minister Scott Morrison has come under fire after it was revealed overseas workers could get a visa older, on 10 per cent less wages and with lower English requirements.....
WattElectricalNews manually sifts through the world wide web on your behalf to curate and bring news stories relevant to those within the electrical industry in Australia. If we are able to save you the couple of hours each day to sift through volumes of data to get to stories like these regularly, then we think we've done our job. After all time is money, right?
--------------------------------------------------------------------------------------------------------------------

(Pictured: SA Premier Steven Marshall and Prime Minister Scott Morrison. Picture Kym Smith)

Mr Marshall and Mr Morrison signed a special visa deal for the state, called a designated area migration agreement or DAMA, as part of the Premier's push to grow the South Australian population and address skills shortages in regional areas.

Details of the deal have been kept under wraps despite requests by The Advertiser for the occupation list.

Opposition leader Peter Malinauskus today said it was clear why the deal was being kept secret after a South Australia parliamentary inquiry heard details of the regional deal.

Mr Malinauskas focused his concern on the revelation migrants could be paid 10 per cent less than the current yearly threshold for skilled migrants — $53,900 — in a move he said will make it harder for locals in regional SA to get a job.

"South Australians will be shocked to learn the Premier has signed an agreement with Scott Morrison which will bring in migrant workers on lower wages to compete for jobs against locals in regional communities," Mr Malinauskas said.

"If Steven Marshall wants to bring in more migrant workers to South Australia, he should be making sure they get the same pay, not signing deals to pay them less."

The Advertiser asked for a list of the occupations that would be covered under the new visa deal the day after the deal was struck in early February.

In the Northern Territory, the first region in Australia to sign a DAMA, there are 117 occupations available - including mechanic, barista, hairdresser and vegetable grower.

Details of the new visas were revealed by the Department for Innovation and Skills executive director, strategy, policy and migration Nari Chandler, in an inquiry looking at the economic contribution of migration in SA.

"The actual concessions vary from occupation to occupation, but in general terms they can include up to a 10 per cent reduction in the salary threshold which is nationally set at $53,900, in cases where that aligns with local market rates paid for those occupations and better reflects the salaries of those occupations and cost of living in regional areas of South Australia," she said.

"Concessions also include a reduction in the English language requirement, where appropriate, and increasing the age limit from 44 to 50.

"Currently, we can't take skilled migrants who are older than 44.

"Increasing the age limit has a significant benefit, particularly in occupations in the health sector and mining and construction where you want someone with experience to form that kind of master and apprentice relationship."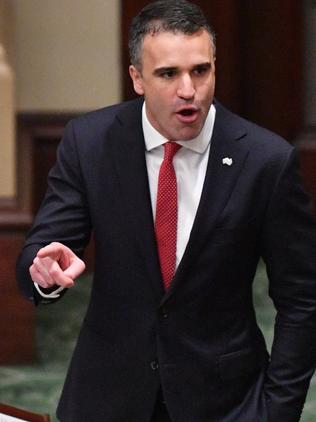 SA Opposition Leader Peter Malinauskas

Responding to questions from Mr Malinauskas in State Parliament, Mr Marshall defended the regional DAMAs and dared the Labor Party to say they do not.

"This is an important deal for South Australia," Mr Marshall said.

"The final details are yet to be concluded — there is some flexibility in regards to the TISMET (minimum salary). They don't have to be paid less but there is some flexibility."

Mr Marshall said the DAMA deal was struck to deal with "very significant skilled shortages across South Australia that Labor had failed to address."

The special visa deal has been seen as a key priority for Mr Marshall's population growth plans.

Business SA, the Property Council, business leaders and regional mayors have all welcomed Mr Marshall's push to deal with skills shortages in regional parts of the state.

When the State Government was this week asked by The Advertiser for an update on SA's occupation list, it was referred back to a previous statement provided by Industry and Skills Minister David Pisoni almost eight weeks earlier.

Mr Pisoni said the two DAMAs — one for the Adelaide City Deal, and the regional deal, which is affected by the criteria revealed today — "are an important way to attract skilled migrants to our state where local workers are not available to fill jobs."

He said the Regional Workforce Agreement will focus on South Australia's regional high-growth industries including agribusiness, forestry, health and social services, tourism and hospitality, construction and mining.

"DAMAs are designed to ensure employers recruit Australians and permanent residents as a priority," he said.

"It is only if suitable local recruits cannot be found that skilled migrants can be accessed by the DAMA process.

"I anticipate that employers can start the application process to be endorsed as an approved employer to hire under the DAMA from July 1 this year."

In February Mr Pisoni said "a list of occupations relating to the DAMAs will be made available shortly along with further contextual information".
Matt Smith, 2/5/2019, www.adelaidenow.com.au/news/south-australia/sa-deal-to-attract-skilled-migrants-to-the-regions-would-allow-bosses-to-pay-them-10-less/news-story/6cfc6b75fdefb0d052af471472d54eee